The 2018 World Adventure Golf Masters is set to take place in the Czech Republic at the country's first ever course of this type.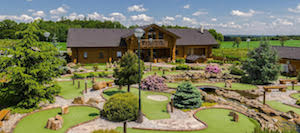 Adventure Golf Horní Bezděkov will host the event from June 16-17 this year and it will take place on its Mini-golf Open Standard style course, which features no fantasy obstacles.
The tournament currently has 95 registered participants from 15 different countries, including mini-golfers from as far away as Australia, New Zealand, Ghana and the US.
In addition to being crowned the best adventure mini-golfer in the world, this year also features a partnership with the Major Series of Putting where the individual with the lowest score will get a US$1,000 entry into the Turbo Singles Championship at this year's MSOP Championships in Las Vegas.
The World Mini-golf Sport Federation is the umbrella organisation of 63 mini-golf sports associations worldwide with Continental Associations in Africa, America, Asia, Europe and Oceania. Over 1,000 championships courses are approved for official competitions and over 1,500 international mini-golf tournaments are held each year.