The newest location for Tree Top Challenge High Ropes Adventure Park company in Australia opened last weekend.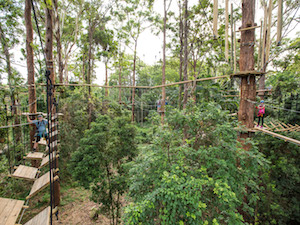 The venue provides a ropes course experience at the tourist attraction, The Big Pineapple, on the Sunshine Coast in Queensland which is also undergoing a multi-million dollar refurbishment.
Management claim that the courses suspended in the canopy at heights over 25m, is the highest attraction of its type in Australia.
The Sunshine Coast facility is the fifth attraction owned and operated by Tree Top – complementing the group's offering on the Gold Coast and in the Scenic Rim.
It combines more than 100 high ropes challenges and 12 ziplines spanning up to 130m and takes about a half day to complete, including three courses that are designed for ages eight years and over.