Stern Pinball has put out a trailer teaser about Godzilla, the longest-running movie franchise in history.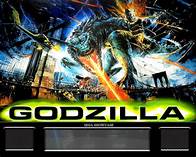 The company is playing its cards closely to its chest about the possibility that Godzilla will be its next pinball production, but it has become something of an open secret that the company will.
There was a Godzilla pinball previously, built by Sega (pictured) in 1998 at the same time as a major movie was released, but only about 500 of the games were produced.
The industry believes that Stern has obtained a license to make a Godzilla pinball…watch this space!