As anticipated in this column this week, Stern Pinball has now officially announced the launch of its new game, Godzilla.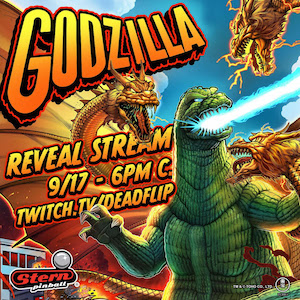 The pinball comes ready equipped for Insider Connected (the Stern site) with QR reader and dongle. In future, all Stern LCD games, both new titles and older models, will be equipped for Insider Connected. Older models can be retrofitted.
Stern has launched a range of videos and articles on the Godzilla licence that will come in the usual Pro, Premium and Limited Edition versions beginning early in 2022. "In spite of severe supply chain difficulties facing manufacturers in all industries we have significantly increased our production and are continuing to increase the rate even more," said president Gary Stern.
The new game is designed by Keith Elwin, capturing the essence of Toho Japan's Godzilla, pulling from ten of the earliest of the 32 movies that began in 1954 with three movies in the past five years. The movie music is faithfully reproduced in the game and custom speech in English and Japanese.