Next month's IAAPA expo in Orlando is renowned as a stage for big new announcements and machine reveals, however this year visitors will be treated to a smaller-scale debut from Adrenaline.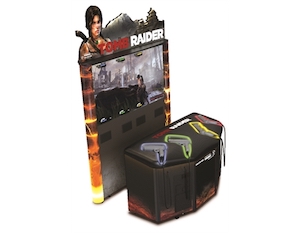 Tomb Raider will be sporting a slimmer build and a smaller footprint on its latest version of its successful shooting game.
Adrenaline has streamlined the cabinet down, incorporating a 65ins display, but despite being roughly half the size of the Deluxe release, will retain guns for four players. It also keeps the motion sensing, force feedback features of the weapons.
Expect official confirmation as IAAPA draws closer.