It was very much a joint effort by Sega Amusements and ICE that brought about the award for The Best New Product in the arcades and video games category of the annual Brass Ring Awards at the IAAPA show last week.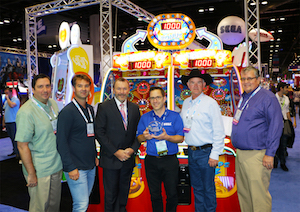 The two companies had collaborated in developing Hoopla, a carnival themed skill wall game.
Paul Williams, CEO at Sega, said: "We are delighted and humbled by the industry's recognition for our innovation and the quality of entertainment delivered by Hoopla."
Joe Coppola, vice president at ICE, added: "Hoopla is a phenomenal addition to the skill wall, on location, it is an instant hit with all ages of the family. For Hoopla to win a Brass Ring award is a testament to the popularity of the game."
Hoopla is Sega's latest skill-based redemption game. As the clock counts down, players must hook hoops on all seven pegs to enter the bonus round. Then in the exciting bonus round the player must catch the moving lit peg with a hoop, to win the big-ticket bonus. Designed with the family in mind the game is brightly lit with a low and wide playfield to encourage parents and kids, or friends to team up, and enjoy the game together. The conveyor belt constantly feeds players with more hoops so to keep the game fun and entertaining throughout.
Pictured: Chris Wood of Sega holds the award with Paul Williams, next left, on the Sega stand at IAAPA.