Following the announcement of the new Frenzy version of '90s Taito classic puzzle game Bust-a-Move, Raw Thrills has reported strong performance from initial locations.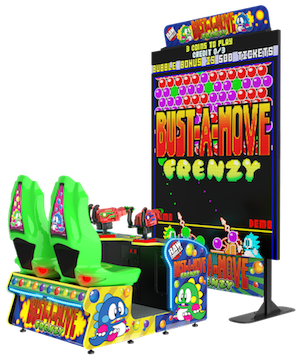 "We just placed our initial units and players love the game," said president Eugene Jarvis. "Income is excellent."
The 2020 version of the 1994 original gets the Frenzy treatment - just as Space Invaders did in 2016 and it is expected to be revealed at upcoming shows.
"The giant, 10ft LED billboard screen sucks 'em in," said Jarvis, "and the simple match-three, bubble shooter gameplay keeps them coming back for more.
"Millennials and Gen Xers love Taito's classic and Bust-a-Move Frenzy ramps up the fun. With two-player co-operative gameplay, it's a great family social game."