A new futuristic approach to children's play has opened at the Mall of Umm Al Quwain, in the UAE.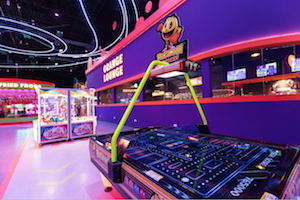 Orange Hub is an FEC that specialises in state-of-the-art technology, introducing the very latest in top-line games and attractions.
Already open in Abu Dhabi, Orange Hub opened its new venue in the country's most northerly emirate on October 20.
Orange Hub is a brand of Ideacrate, an edutainment company operating in nurseries, indoor and outdoor play areas and amusement centres. It is pledged to provide world-class, unique children's education and entertainment experiences with a range of different brands under one umbrella, including Orange Wheels as well as Orange Hub.
The company has another branch at Al Wahda Mall in Abu Dhabi. The Umm Al Quwain location covers 2,320sq.m and has 70 debit card-operated games, including novelties, video, redemption, rides, battery-operated cars, soft play, pool tables, kiddie rides and a PlayStation and Xbox centre. It also accepts bookings to host birthday parties in the private party room and has a café for customers to unwind.
"We are elated about the opening of our new centre in the Mall of Umm Al Quwain," said Shifa Yusuffali, founder and CEO. Orange Hub is setting the trend as the UAE's coolest hangout hub for pre-teens and above as a one-of-a-kind entertainment centre.
"We are also proud to announce that Orange Hub is the first entertainment centre in UAQ to offer a massive kids' play area for all age groups and tons of games offering something for everyone."