As the first day of the DEAL trade show concluded in Dubai, operators from all over the world gathered for industry functions.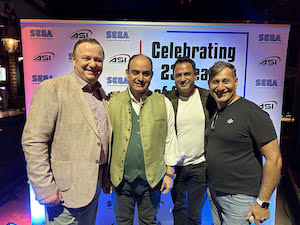 The show organiser, International Expo Consults, ran an exhibitor dinner at the show venue, the World Trade Centre, while distributor ASI and Sega joined forces for a combined reception at the Lock, Stock and Barrel in the Grand Millenium Hotel.
At the same time, distributor Warehouse of Games held a dinner reception at the glamorous Li' Brasil Restaurant in the Beach Resort at The Walk, Jumeirah Beach.
Pictured are ASI's Prakash Vivekanand (second from right), with Silvio Liedtke of Landmark Leisure (left), Majed Al Hokair of the major Saudi operating company and, right, Shazad Ali, owner of Cheeky Monkeys play centres.