NSM Music has confirmed its commitment to UK operators as it prepares to launch its second new machine of 2018, with the debut of the Thunder jukebox at the ACOS show in London this October.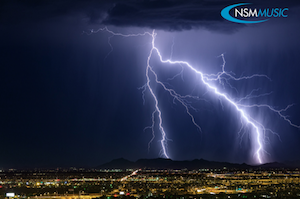 The new Thunder model follows hot on the heels of the Lightning jukebox, which has recently seen a successful debut. NSM's latest model has been designed specifically to meet the needs of larger scale placements.
Alex Kirby, sales manager at NSM, said: "I'm confident that Thunder is set to make a big bang with operators. Our team has worked diligently to drive the advanced features of this jukebox and create what is our latest top-end machine. In addition to featuring the latest hardware and NSM's catalogue of over 250,000 songs, the Thunder is an all-in-one piece of kit with a powerful, 32ins HD touch screen, which means there is no need for the addition of extra screens for on-board visual advertising."
"We undertook core research with both operators and customers to ensure that the bigger, more extensive ideas were incorporated and the result is a powerful juke which brings the wow-factor to UK venues," he continued.
Thunder replaces NSM's classic Storm jukebox, something that Kirby explained was crucial in its creation by staying true to the company's heritage while driving the technical capacity forward. He explained: "The Thunder's ability to feature multimedia promotions and enhanced visual entertainment really sets it apart from other models."
Thunder complements the Lightning model by catering to larger scale venues and customers who crucially desire a multimedia experience." Explaining the company's decision to debut at ACOS, Kirby concluded: "We know from meetings with operators at a number of trade shows in recent years that there are different demands for different venues and customer-bases, so our mission for ACOS is to be able to meet all those demands without compromising on the reliability, power and forward-thinking features that NSM is known for.
"We've got some very exciting new elements for both our new machines, including a weekly updated Vodafone Top 40 Charts feature, which the NSM team will be showcasing in full at Olympia. With both Thunder and Lightning set to cause a storm in the industry, whatever the weather we've got the jukebox for you."