The call has gone out for nominations for the MENALAC Awards for 2019. The 2nd series of awards will be held during the DEAL trade show in Dubai and will take place at the Gala Dinner, which is to be held at the Ritz Carlton Hotel, in Dubai on March 26.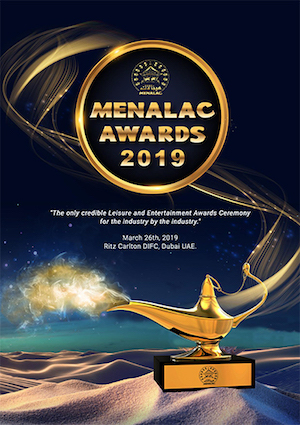 Nominations are now open for entry and will cover brands, companies, water parks, FECs, visitor attractions, edutainment centres, sport and adventure-based venues, cinemas, standards and outstanding individuals in the industry.
The nominees will be judged by a panel of industry experts quite independently and their decisions will be collected by independent auditors.
Nominations must be in by Sunday, January 20, 2019.
The categories this year will be for: The Best Theme Park; Best FEC; Best Water Park; Best Unique Visitor Attraction; Best Edutainment/Playscape; Best Sport/Adventure-Based Entertainment; Best New Leisure/Entertainment concept; Best Cinema Experience; Best Day Out; Most Innovative New Product/Installation/Show/Production for Indoor Leisure and Entertainment Facility; Most Innovative New Product/Installation/Show/Production for outdoor leisure and entertainment Facility; Most Innovative Application of Technology; Best Sales and Marketing Campaign; Best CSR Programme; Best Employees' Engagement Initiative; Best Customer Loyalty Programme; Best Innovation in Health and Safety; Best Establishment Manager Below 250,000 Visitor/Transaction; Best Establishment Manager, Above 250,000 Visitor/Transaction; Leisure and Entertainment Personality of the Year.
There will also be a short-list from which one or more personalities will be elected to the MENALAC Hall of Fame. These will be selected by the association's Board of Directors.