Developer of virtual reality technologies and content Neurogaming was awarded Rising VR Company of the Year at the recent VR Awards.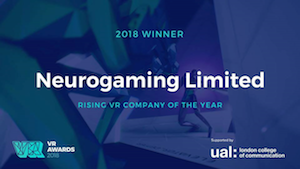 The ceremony took place in London on October 16. Neurogaming was recognised as the most promising startup of the year, offering best-in-class VR technologies.
Over the past year Neurogaming has rapidly increased its global presence with its two main projects: PlayVR and PolygonVR. The company launched gaming locations in Amsterdam, Netherlands, and in Milton Keynes, UK. In the US Neurogaming has entered into a partnership with Exit Reality and together they launched the X Arc VR LBE project.
Both PlayVR and PolygonVR have been busy lately, launching several well received VR games including World of Tanks VR and Alpha CentaVR escape room experience (both for PlayVR) and major updates for PolygonVR content. All of those have contributed to the growth of Neurogaming as a global VR company and contributed to its recent accolade in London.
"Our people are the key to our success," said Neurogaming CEO Yury Krylov. "We joined a global team of more than 200 highly experienced developers and all of them are VR geeks who have true passion for what they are doing. Within a year we released several mind-blowing products, including World of Tanks VR and Alpha CentaVR escape room experience, which almost immediately became very popular among gamers. Our global network of partners allow us to have a worldwide footprint, thus we know what the real customers interests and needs are. We are celebrating the prize from VR Awards 2018 together with our people as all of us are working hard to be the cutting-edge VR project."