California-based Nomadic has partnered with VRwerx for a multiplayer VR experience based on the Mission: Impossible film franchise.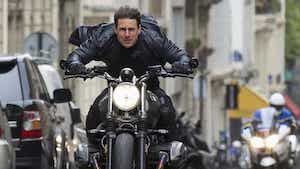 Having already developed Paramount IP, Paranormal Activity: The Lost Soul, for VR, 2018 saw VRwerx reveal it had an experience inspired by Mission: Impossible in the pipeline which will allow players to play as an IMF agent by manipulating and touching physical objects.
"With Nomadic, we'll not only enable the audience to be immersed in the Mission: Impossible world, they will also be able to touch and play inside of it, heightening their immersion to levels we've never seen before," VRwerx co-managing partner Alex Barder said.
Before Mission: Impossible debuts in 2019, Nomadic is set to launch its zombie apocalypse game Arizona Sunshine before the end of 2018 at Pointe Orlando. It also plans to open other VR centres in Los Angeles and Las Vegas.
Image: A scene from Mission: Impossible, courtesy of Parmount Pictures