The MENALAC general assembly has been told that the organisation would build still more on the success of its events, notably the Gala Dinner and Awards night and would consider expanding the awards programme to include more smaller operations.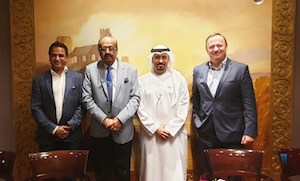 A spokesman for the association said that the second annual Gala and Awards Night had helped the event grow in prominence when it was held in Dubai on March 26.
"Following the success of this event we have received many requests from the industry to add more award categories aimed at smaller operations as well as products and services. The events committee will look into these requests to accommodate more awards within these categories during the run-up to the next Gala in 2020."
Other activities are also being planning for the coming year, including a repeat of the Safety conference in KSA and education and networking events in the UAE, Oman and Kuwait. The Events Committee would continue to work on improving still more its conference held in conjunction with the DEAL show in 2020.
New senior officers of MENALAC at the general assembly. Left to right, Prakash Vivekanand, general secretary, Dr. J.S. DattaKumar, the treasurer, AlHassan Kaabous Alzaabi, president and Silvio Liedtke, vice-president.