A new, expanded board of directors has been appointed at MENALAC, the Middle East trade association for the attractions industry.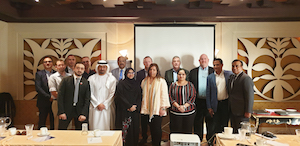 The organisation, full title Middle East and North Africa Leisure and Attractions Council, added manufacturers and suppliers as a category of directorship, allocating two seats on the board to that sector.
The new leadership of the organisation, elected for two years, is headed by Mr. Alhasan Kaabous Alzaabi as president. Alzaabi is vice president at Farah Experiences in the UAE. The vice-president remains Silvio Liedtke who is CEO at Landmark Leisure. Prakash Vivekanand remains secretary general. Apart from his role at ASI, Vivekanand is the CEO of The Zone Amusement Arcade in the UAE. Treasurer is Dr J.S. Dattakumar, director of operations at Antics Land, Sharjah, UAE.
The new board, in addition to its officers, consists of: Abdulrahman Falaknaz, president of Dubai Garden Glow, UAE; Mishal Al Hokair, deputy CEO at Al Hokair Group, Kingdom of Saudi Arabia; Andrew Such, director of operations, Majid Al Futtaim Leisure and Entertainment; Mohamed Attia, general manager, Al Othaim Leisure and Tourism Co; Chris Swartz, general manager, Wild Wadi, UAE; Shifa Yusuffali, CEO, Ideacrate Edutainment, UAE (new member); Peter Poyck, general manager, Adventureland, UAE and Morocco; Monira Al Sabah, CEO Play Enterprises, Kuwait (new member); Shazad Inayatali Abdullah, Cheeky Monkeys Playland, UAE (new member); Alex Schrott, general manager, TüV SüD, Germany; Mike Rigby, vice president business development, Whitewater West Industries, Canada. Mohamed Attia joined the board in place of his colleague Mohammed Salem, who recently passed away.
The constitution of the board now reflects the continued majority stake held by 'benefactor operator members' of whom there are seven, plus eight operator members and the two from manufacturers and suppliers. The latter two are Mike Rigby from Canada and Alex Schrott from Germany.
A new committee has been formed for manufacturers and suppliers to represent the interests of their sector, together with consultants and service providers to the business.
Said a representative of the organisation: "We are pleased with the outcome of our third annual meeting and the general assembly noted the significant progress made by MENALAC in the past 12 months. During this period we have witnessed a 40 per cent growth in our membership base and have hosted many educational conferences and awards initiatives. They have all been very successful and insightful for the leisure and entertainment industry.
"Meaningful interaction with authorities and regulatory bodies, enhanced engagement with industry stakeholders, extending our reach to smaller operators and businesses and educational programmes geared to suit the specific requirements of the MENA region."
Image: The new board of directors, together with the association's auditors, Crowe UAE, at the general assembly.