French cinema operator CineMovida plans to open a 4D movie theatre supported by MediaMation's technology before the end of spring 2019 in the town of Saint-Quentin-en-Yvelines, France.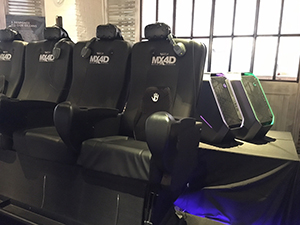 The attraction will will show full first-run blockbusters at the location that utilises MediaMation's MX4D Motion EFX seats and will be a featured part of the location.
The silent, air-driven, pneumatic system aims to move the cinema experience beyond what the standard theatre can offer, with a range of motion and effects including air blasts, water, scent and fog.
"4D seats are something quite new in France and we are very proud to work with MX4D," said Stephan Miché, the general secretary of the chain. "We want to show customers that cinema is evolving and that we will always stay on the cutting edge of entertainment."