Ireland's longest zip-line has been unveiled at the Colin Glen Forest Park in Belfast, Northern Ireland.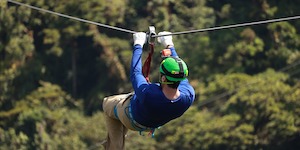 River Rapid, as it's named, is a 700m zip-line that's 100ft up in the air, allowing visitors to enjoy spectacular views of the city. Guests are able to travel at speeds of around 50kmph on the zip-line.
The attraction is part of a multi-million pound investment by Belfast City Council, the Department of Agriculture, the Department for Communities and DAERA.
Councillor Kate Nicholl, Lord Mayor of Belfast, said: "It is fantastic to visit the stunning Colin Glen Forest Park to get a proper sense of the scale and ambition of this transformative project.
"From the outset, Belfast City Council got behind Colin Glen Trust's vision to transform the forest park into a thriving, world-class visitor destination.
"As well as overseeing the delivery of the project, Council's £2.5 million investment was crucial in getting it off the ground and in helping to secure the additional funding needed from our partners in DAERA and the Department for Communities to make it happen."