Landmark Leisure, the major FEC operator with the Fun City chain, is looking to India for expansion during a Middle East slow-down, says chief executive Silvio Liedtke.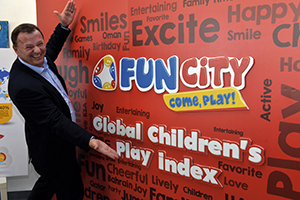 Interviewed in the current edition of InterGame, Liedtke (pictured) said: ""The Middle East entertainment and attractions industry in 2018 is standing pretty well still – apart from cinemas in KSA. We are playing down our own expansion in the region. The one great new asset we have is Jumble. Otherwise, my attention is turning to India."
The interview is contained in the March issue, Part I of InterGame's Middle East Special Issue, with the publication of Part II planned for the opening day of the DEAL show.
Landmark has 50 FECs in the Gulf region and another 23 in India. He continues: "The UAE has been approaching saturation point for some time. Last year we announced in this issue that we would not be opening any more of our Fun City brand in the country. Now we are committed only to smaller projects plus anything that is radical, thinking outside of the box. Jumble is a natural outcome of that process."
On India, Liedtke said: ""There's two or three major operators of FECs already well established in India, including ourselves," said Liedtke. "But malls are booming there. In fact we have a few issues with the number of projects that we have under way there, but that's a great problem to have!"
The company's 24 Indian FECs are in the course of retrofitting and bringing in new debit card systems. "It is a very difficult country to navigate operationally, but we have stores all over the country under the Fun City brand and we are opening a Tridom in Hyderabad very shortly, to follow on the success we have had in Ras al Khaimah (UAE)."
He said that Landmark was planning around a dozen store openings this year, initially three or four in Oasis Centre malls (all part of the wider Landmark Group), so both Fun City and Fun Block will make their appearance there this year. Depending upon the size of the mall, Fun Block for the smaller ones, community malls and Fun City for the larger venues.
For the full interview, read the March issue of InterGame, available at DEAL or order through Info@InterGame.ltd.uk