Abu Dhabi's Yas Mall is the new destination for one of the popular KidZania children's interactive role-play parks. Emaar, the mall developer, has a KidZania in its Dubai Mall and now has a second UAE location on the way with the opening of the one in Yas Mall.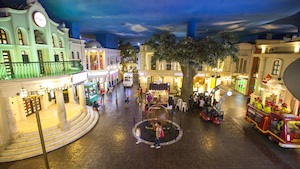 A KidZania Airport with fuselage of an aircraft greets children at the venue, with flight simulators permitting children to play at pilots and cabin crew. It will open to families in the second quarter of 2019, says the company.
KidZania is an activity-packed indoor interactive city run by kids. It provides a safe, unique and very realistic educational environment that allows kids to discover all about different jobs through exciting role-play and develop decision-making, teamwork, creativity and social skills.
From television anchors reading the news, to police officers performing detective work and chefs cooking up tasty food, role-playing activities introduce them to different careers in a fun and interactive way.
The indoor edutainment centre is built to scale for children, and accurately reflects the workings of a typical city through paved streets, vehicles, a functioning economy, and recognisable destinations in the form of "establishments."
UAE's well-known brands like ADNOC, Al Rawabi and Lacnor will be sponsoring various experiences in the attraction.