Following the announcement of an agreement struck between VR provider, Immotion and Saudi Arabian operator, Al Hokair, InterGame was invited to the signing of the deal at the IAAPA Amusement Expo in Orlando, US last week.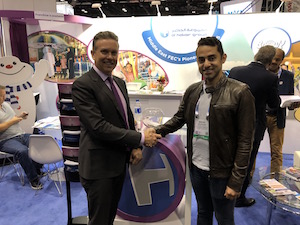 Executive vice president and general manager of the entertainment sector of the Al Hokar Group, Mishal Al Hokair (pictured right) and Immotion group commercial director Rod Findley gave their reactions to the new partnership.
"At first we will have four VR centres across Saudi and the UAE," said Mishal Al Hokair, "but we will be looking to expand." Each VR zone will be situated within existing Al Hokair Time FECs and will have a minimum of 12 machines. It is hoped that they will be operational by the beginning of 2019.
"There's not very much VR in Saudi at the moment, so this will make a big impact," he revealed. "The quality of the experience brought by the Immotion Group is just amazing. I've tried the different variants at some of their locations in the UK and they're incredible. There are other companies that have impressive VR offerings, but for me, none of them touch Immotion's. The most important thing is the content and they have a good team that provide this. The fact that they are already supplying premium locations like Legoland for example has given us the confidence to progress with this deal."
Immotion's Findley (pictured left) said: "Quality content is what's different about us, we're going in at a very high level; we create all our own content within our studios in Manchester (UK) and Los Angeles. So the level of it and experience it provides is head and shoulders above anything else that exists. It's something that always concerns us; if people have a bad experience of VR then they don't want to come back so that's why it's important that in our deal with Al Hokair, we put the right VR in place. Guests to their existing centres will spend longer in there and it will also serve to attract additional custom.
"Sparky's (Al Hokair's FEC brand) has an appeal to a wide age range and as kids grow up and enjoy the VR in the Sparky's chain, we hope that they will develop a real affinity with both our brands on the back of the quality experience. By installing our product into the initial sites it's going to give us a real insight into how we can look to expand across the chain. It's exciting and we're honoured to be in partnership with them," he added.