The numbers fell dramatically, understandably, but IAAPA still managed to hit 28,000 attendees. This compared with 42,000 in 2019.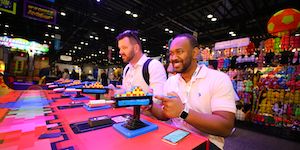 In its annual post-show wrap-up IAAPA said that its Orlando experience this year was notable for its "incredible challenge and incredible resilience," with the industry reconvening for the first time in two years.
The event at the Orange County Convention Center in Florida, US, was "a testament to the resilience and continued growth and strength of the global attractions industry," said Hal McEvoy, CEO of IAAPA.
In the five days, November 15-19, 870 exhibiting companies took up 375,000sq.ft of indoor and outdoor exhibit space. Qualified buyers were counted at 21,026 and total registration was 28,229.
In its press release, the trade association said: "From advanced ride engineering and VR experiences, to ticketing and security, the show was filled with new products and technologies that represented 25 product categories.
"Throughout the week, more than 20 companies made announcements directly from the press conference booth on the show floor, including Marlin Entertainments, Sally Dark Rides, Fun Spot America, Extreme Engineering, Zamperla, JRA, Altitude Rides and Attractions, SPREE, LAI Games and RWS Entertainment Group."
A range of breakfast events, receptions, award ceremonies, workshops and conferences took up much of the time, but the trade show itself covered four days.
IAAPA is set for the same location in 2022, November 14-18.