Interactive experiences developer Lagotronics Projects has a major role to play in the building of a new, 23-hectare Pradera Islands theme park in the Philippines.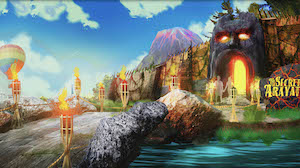 Spanish design agency Immersive Planet is behind the master plan and design of the new theme park, and it has commissioned Lagotronics for the development, production and installation of an entire media-based dark ride and several other attractions.
The Dutch company will build the Secret of Arayat dark ride, based on a Filipino myth, with large 3D video projections, fantastic scenery and special effects, including hot and cold air drafts, lava, sound and animatronics.
It will also provide a VR coaster, named Attack of the Aswang, in which riders are taken on a flying dragon. The coaster is being provided by Preston & Barbieri and VR Coaster, part of Mack Rides.
Another important part of the development is Sunkid Towers, two interactive towers in which visitors use interactive magic wands to hit targets; and Convoy, the interactive ride from Zamperla that Lagotronics will equip with an interactive system.
The company will also provide a sound system for the entire park.