A new immersive cinema experience has been unveiled at the Reel Cinemas location in the Dubai Mall, it has been announced.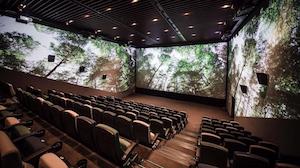 Reel Cinemas, from Emaar Entertainment, has launched ScreenX in partnership with CJ 4DPLEX in the technology. It is the world's first multi-projection system that provides a panoramic film viewing experience within a theatre setting.
The company says that ScreenX "assures a deeper immersive experience, without the installation of any additional screens on to the walls, covering the entire viewing angle. Viewers can look forward to being completely involved while watching their favourite blockbuster."
Reel recently broke new ground in launching its Dine-In Cinema and the first in-hotel cinema.