Apple Industries' 17th consecutive year of exhibiting at IAAPA last month reportedly brought in over 3,000 visitors over the course of the four days.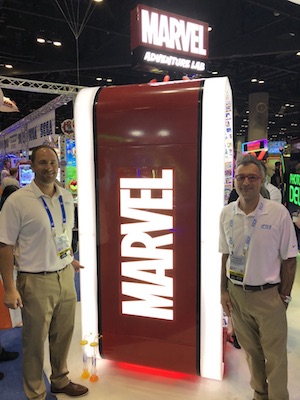 The reasons for its success were its series of new products: the Marvel Adventure Lab, the Photo Studio Prism with the latest licensed photo content from Universal Pictures and the world's first app-powered printing kiosk, the Print Budii.
Apple COO Scott Avery (pictured left) said of the Marvel Adventure Lab: "This is an exclusive amusement machine concept developed by Apple Industries in partnership with Marvel. The in-house software technology and user interface create the most unforgettable experience ever witnessed within an amusement machine."
IAAPA visitors queued to become part of a customised comic book with Marvel characters Spiderman, Ant Man, Thor, Black Panther, Captain America, Guardians of the Galaxy, The Avengers, Iron Man and Hulk.
Creating its own buzz was the Photo Studio Prism, a compact new version of Photo Studio Deluxe. "Due to its monumental size, the popular Photo Studio Deluxe could only be installed in very large environments," said Apple CEO Allen Weisberg, "and following so many requests from our loyal partners and distributors, we decided to develop Photo Studio Prism, a smaller and more compact version to fit within many more locations."
The Print Budii proved to be an additional hit. "It is the world's first app-powered printing kiosk," explained Apple COO Scott Avery. "The app enables customers to use their smartphone to access photo galleries and social media, then customise, transfer and print photos - all done by phone."
With the Print Budii app, IAAPA visitors printed thousands of photos from the kiosks installed on the exhibit booth over the duration of the show.
"This year was very special for us as we showcased incredible products which were exclusively revealed at IAAPA 2018. This is also a unique opportunity for our sales team to book multiple appointments with our international distributors, potential new clients and all the industry leaders gathered for one week under the same roof," explained Weisberg.