The growth in the Saudi movie industry as a result of the country's removal of the ban on cinemas, has seen the birth of all-Saudi movie projects. The first fruit of this is a movie named Roll 'em, written and produced with an all-Saudi crew including actors.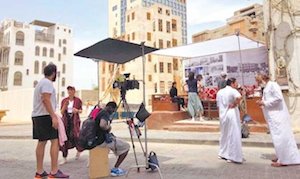 A private screening of the new movie will take place today and it will go public tomorrow, in VOX Cinemas in the country.
The first cinema in Jeddah, was been opened by Vox in the Red Sea Mall. The venue is just one of many in KSA that will open under the Vox banner, said CEO Cameron Mitchell.
At the opening ceremony he said that as many as 35m people in Saudi will visit a cinema annually. "If you look at Dubai we have 15m customers there each year. In KSA we are expecting much higher numbers."
According to Price Waterhouse Cooper, the country's cinema revenues will reach US$1.5bn by 2030, based upon a projected population of 39.5m by that time and 6.6 screens for each 100,000 people.
VOX is planning to invest US$533m and open 600 screens in KSA in the next five years, said Mitchell.