Australian trade association GTA has completed its latest study of the number of gaming machines operated around the world in 2019.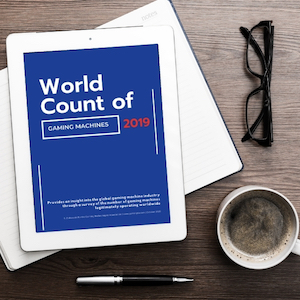 The study is one of very few authoritative investigations into jurisdictions and machine numbers that is available on the market. The Gaming Technologies Association, with nearly all of the active suppliers in the Australian market in membership, told InterGame this week that the number of authorised machines globally in 2019 was 7,431,125. This is up 0.39 per cent from 2018.
In its own market of Australia, the GTA pinpointed that there are 192,800 machines operating, down 3,501 from the previous year. The estimate indicated that in 2019 Australia operated 2.58 per cent of the world's legally installed machines.
All jurisdictions across Australia, except for Western Australia, saw a decline in gaming machine numbers compared with the previous year.
Gaming machines can be found in various establishments internationally, from casinos to cruise boats, clubs and local bars, racing venues, amusement parlours, restaurants, petrol stations and even in corner stores and cafes.
The World Count of Gaming Machines, as the report is named, illustrates the evolving nature of the industry, both in Australia and internationally.
It found that Japan has the most gaming machines in the Asia Pacific region with 4,195,930; the US has the most in North America with 900,704; Argentina leads in South America with 97,555; Italy in Europe with 407,267; and South Africa is the leader in terms of numbers in Africa with 37,815.
The GTA first commissioned the World Count of Gaming Machines in 1999 in response to unfounded and exaggerated figures that were circulating at that time. A copy of the report can be found on http://gamingta.com/the-world-count-of-gaming-machines-2019/