Dedicated teams for first-line technical support are being set up by money handling expert Innovative Technology at several of its office locations.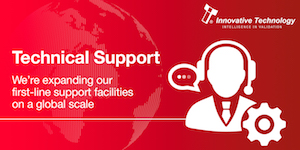 The object will be to provide customers with in-depth technical expertise for their cash validation products, via email and telephone. They will also liaise with ITL's internal R&D team to identify product improvements and trends.
The company's dedicated technical support team based in the UK is well-established and is made up of two main parts, first-line giving technical support through telephone and email contact and engineers who conduct site visits.
Andy Bassam, vice president of customer support, said that the strategy provides for first-line technical support at ITL's otyher office locations and expansion is now well under way.