The 30th anniversary edition of the Australasian Gaming Expo got off to a flying start today on a sunny day in Sydney.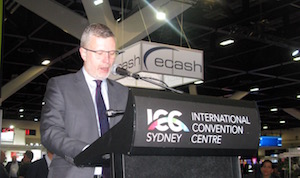 Opening the event, the CEO of organiser Gaming Technologies Association, Chris Muir (pictured), said: "It's fantastic to be back here in the ICC for the third year. And just look at this show… it looks amazing. Again this year each day we are giving away a trip to Las Vegas for the G2E show in October, all expenses paid. Everyone is invited to enter the draw.
"I would also like to thank our sponsors, Ainsworth and Aruze, and the GTA staff for once again producing an event that we can be very proud of." There was also a welcome, as usual, from Uncle Allen Madden, the regional representative of the indiginous people.
As the show opened there was a flood of attendees, boding well for the coming three days of a show enjoying a significant milestone. Over its three decades it has emerged as one of the world's leading gaming trade exhibitions.
Sponsored by Aruze, AGE's 30th year celebrations started in earnest at 5pm on the first day on the show floor. To claim their spot at the celebrations, attendees were urged to get behind the AGE fundraiser and make a donation to Father Chris Riley's Youth Off The Streets charity.
To find out more about the show, click here to read the digital version of the AGE Today.