Live 5 Gaming, the UK-based digital games designer, has hired seven new games developers and graphic artists, ranging from apprentice to senior levels.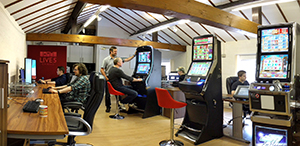 "It has been a phenomenal 12 months for Live 5 Gaming," said the company's CEO, Lloyd Butler.
"Following the success of Live 5's first title, The Sky's the Limit, which was such a hit with Sky Vegas players, we have consolidated our position with Stairway to Heaven and demand has been so incredible, that we are now expanding."
Stairway to Heaven has been taken up by Sky Vegas and Rank Group among others. In addition, the Wolverhampton-based company has been awarded an Alderney Gambling Commission Licence.
Chairman Roy Howell said: "Such is the demand for our titles among blue chip clients that we have had to increase our development schedule to meet the demand."