A product of Euro Games Technology is among the finalists in the Global Gaming Awards programme.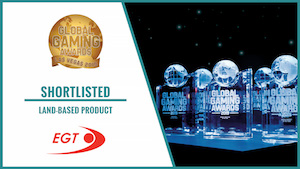 EGT's cabinet P-452V St Curved is one of the top 10 gaming machines in the category Land-Based Product of the Year and goes forward to the G2E awards final the winner of which will be announced during the G2E show in October.
The P-42V St Curved has been a runaway success for EGT and has found favour across the world for its design with an edge-to-edge front glass surface and 42ins vertical touchscreen monitor that permits more space for media graphics.
There is a 27ins multimedia topper for 3D animations and ambient LEFD illumination responding to the game as it progresses.