Rio de Janeiro's governor has said that casinos will be approved in the Brazilian state by the end of the year, with each state regulating gaming in its own way.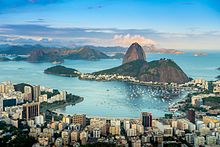 Marcelo Crivella, mayor of the city of Rio de Janeiro, switched to English mid-speech to talk about the need for important people to invest and work together with Rio.
Crivella previously said he spoke with Las Vegas Sands CEO Sheldon Adelson last year about plans to build a $10bn casino, which Adelson reportedly said would double tourism. Adelson has said he wants to build two casinos in Brazil with the first in Rio.
Elsewhere, the country will send a contingent of tourism officials to Las Vegas to evaluate the potential impacts of casino gambling in Brazil, Games Magazine Brazil reported.
Source: Fantini's Gaming Report