Sportech names new FootballPools.com boss
Sportech, the UK gaming group, has appointed Will Muirhead as managing director of its online football subsidiary, FootballPools.com.
Muirhead joins the business ahead of the official re-launch of The New Football Pools, which is planned to coincide with the start of the next football season in August.

He will be responsible for developing Sportech's existing online football products, building new gaming products and acquiring content businesses to further the development of the online business.
Toronto-based online gambling software and platform provider ISIS Lab is to be renamed Imperus Technologies Corporation, subject to regulatory approval.
Nick Hares has joined Clarion Events' gaming division as conferences event manager.
Evolution Gaming has launched a dedicated live casino environment for Full Tilt, which is expanding its offering of casino games.
Related articles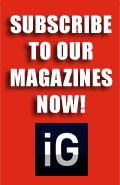 Our Publications
Our Partners