Emaar, Sega to develop indoor theme park
Emaar Malls Group, the developer of The Dubai Mall, has teamed up with Sega Japan for a project that will see the mall incorporate an indoor theme park featuring rides and motion-simulator.
Sega Republic will be a two-level, 76,000sq.ft indoor theme park, featuring a diverse line up of rides and amusements, all in a controlled environment designed from the concept stage to entertain all age groups, at all levels.

The development will be the first of its kind in the region and will serve as a benchmark for future Sega indoor theme park developments across the Middle East and North Africa region and the Indian Subcontinent.

The location will be split into different zones, themed to reflect the experiences on offer including the Speed Zone, Sports Zone and a huge redemption zone.

Commenting on the development, Yousuf Al Ali, general manager of The Dubai Mall, said: "Sega Republic is redefining the concept of indoor entertainment in the region by introducing never-before experienced adventures and games.

"Based on the original Joypolis in Tokyo, Sega Republic adopts the same adrenaline-fuelled offer of thrilling rides - including brand new concepts - and the latest interactive arcade games that will appeal to people of all ages."
UK adult gaming centre operator Talarius made a positive contribution to parent company Tatts Group's FY14 results for the first time since its acquisition.
Australia's Darwin International Airport is to house a new family entertainment centre – the first Australian location for Ardent Leisure, the name behind the chain of Main Event FECs in the US.
UK-based cash handling specialist Innovative Technology has updated its equipment to enable operators to process the new €10 note, which enters circulation next month.
Related articles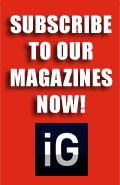 Our Publications
Our Partners