Online gaming on agenda at White House Tribal Nations Conference
The fourth White House Tribal Nations Conference of the Obama administration will be held on December 5 as President Obama welcomes representatives from the federally recognised tribes of the US to the Department of the Interior.
The non-tribal gaming industry will be taking a keen interest in the conference as the very real prospect of tribal nation online gaming is likely to feature high on the agenda. With federal i-gaming legislation being forced to the top of the Congressional to-do list, all eyes will be on the Department of the Interior next week as a barometer for the general mood in government with regards to i-gaming.
Of the many questions facing the conference, perhaps the most pertinent regards who should regulate tribal online gaming – will it affect historical Native American gambling compacts or fall entirely under federal control? Will any legislation be limited to online poker, as mooted by the increasingly weary Reid-Kyl bill, or have a wider remit? How can tribal nations or groups of tribes act as 'operators' in the federal, legal sense?
The White House Tribal Nations Conference takes place from 9.30am ET on Wednesday, December 5, at the Department of the Interior in Washington DC. Representatives from each of 566 recognised tribal nations are expected to be in attendance.
EiG 2014, held over three days at Arena Berlin in the German capital this week, closed yesterday with many visitors and exhibitors hailing the event a success.
In its interim report for the nine months to September, Net Entertainment saw revenues increase by 35.5 per cent year on year to SEK610.6m (€66m).
Declan Hill, a leading expert on match-fixing and bribery in international sport, will be the keynote speaker at the two-day Malta iGaming Seminar next month.
Related articles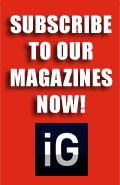 Our Publications
Our Partners