Online gaming on agenda at White House Tribal Nations Conference
The fourth White House Tribal Nations Conference of the Obama administration will be held on December 5 as President Obama welcomes representatives from the federally recognised tribes of the US to the Department of the Interior.
The non-tribal gaming industry will be taking a keen interest in the conference as the very real prospect of tribal nation online gaming is likely to feature high on the agenda. With federal i-gaming legislation being forced to the top of the Congressional to-do list, all eyes will be on the Department of the Interior next week as a barometer for the general mood in government with regards to i-gaming.
Of the many questions facing the conference, perhaps the most pertinent regards who should regulate tribal online gaming – will it affect historical Native American gambling compacts or fall entirely under federal control? Will any legislation be limited to online poker, as mooted by the increasingly weary Reid-Kyl bill, or have a wider remit? How can tribal nations or groups of tribes act as 'operators' in the federal, legal sense?
The White House Tribal Nations Conference takes place from 9.30am ET on Wednesday, December 5, at the Department of the Interior in Washington DC. Representatives from each of 566 recognised tribal nations are expected to be in attendance.
EiG 2014 opened its doors in Berlin today as the online gaming industry descended on Arena Berlin in the city's Treptow district.
NextGen Gaming, the Sydney, Australia-based slots studio of NYX Gaming Group, has announced the debut launch at Gala Coral of the exclusive new Judge Dredd slot game.
Comtrade Gaming has today announced the launch of its new product, sCore Connect.
Related articles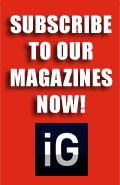 Our Publications
Our Partners