PAF and Goalwin join Ongame
PAF and Goalwin are joining Ongame's poker network in Spain.
"Ongame has been the prime provider of online poker for PAF during the last seven years and we are pleased to announce that Ongame will power our brand in the Spanish market as well," said Arvid Klingström, head of poker at PAF. "PAF has a strong brand in Spain which is further boosted by our acquisition of the Unibet player community in Spain."
Chicco Merighi, president of Goalgaming, added: "We have, with the help of Ongame, created a truly unique white label offering for Spanish operators. In addition to our own two brands, goalwin.es and pokermambo.es, we will also power pokerloco.es. We appreciate working with a company like Ongame, which is as innovative and fast-moving as we are." Spain is the third largest offline gambling market in Europe. The Spanish online sector has great growth potential. Currently it accounts for 5.7 per cent of the total gambling market compared to the European average of 11.2 per cent, according to independent analysis by H2 Gaming Capital.
With expected gross revenues of €82m during 2012, online poker makes up 19 per cent of the i-gaming market in Spain - one of Europe's single largest i-gaming markets that is expected to grow by 15 per cent to €504m during the coming year.
"We are proud to once again be one of the first poker networks in a major regulated market," said Peter Bertilsson, managing director of Ongame. "We have established direct contacts with all major land-based operators in addition to the online operators. Negotiations with several operators are ongoing."
Internet betting exchange Betfair has indicated that the No vote continues to trade with an 81 per cent chance of a win ahead of the Scottish referendum.
GameAccount Network has been awarded a patent by the US Patent Office for its iBridge Framework, which enables the integration of an internet gaming system with a land-based casino's rewards points programme.
UK-based Realistic Games has outgrown its existing premises in Wantage, Oxfordshire, and moved to Reading in nearby Berkshire.
Related articles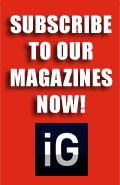 Our Publications
Our Partners