Fiji casino project raises $400m
The first phase of Fiji's casino project is to get under way this month, the company behind the scheme has confirmed.
According to local media, One Hundred Sands managing director Larry Claunch revealed that $400m in financing had already been raised for the project in just six months.
Construction work will begin shortly, he said.
The resort, which will feature a 500-slot, 57-table casino, is due scheduled to open by October next year.
It will be the country's first casino.
Australian billionaire James Packer has once again set his sights on the Las Vegas Strip.
The Las Vegas casino industry is back on form, but casino gaming elsewhere in the US is still searching for an upswing.
Turning Stone Resort Casino in Verona in the US state of New York has upgraded its entire slot floor of 2,100 games with CPI's combination of MEI SC Advance note acceptors and EASITRAX Soft Count.
Related articles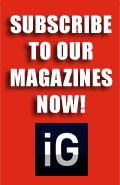 Our Publications
Our Partners