Fiji casino project raises $400m
The first phase of Fiji's casino project is to get under way this month, the company behind the scheme has confirmed.
According to local media, One Hundred Sands managing director Larry Claunch revealed that $400m in financing had already been raised for the project in just six months.
Construction work will begin shortly, he said.
The resort, which will feature a 500-slot, 57-table casino, is due scheduled to open by October next year.
It will be the country's first casino.
The Gauselmann Group celebrated the opening of its first casino in Germany on Saturday.
We will soon get an idea how tough the Macau government will be on granting table games to the new multi-billion dollar resorts as Galaxy announced that its phase two will open on May 27.
Analysts believe that the Las Vegas Strip will continue its rebound during 2015, although gaming won't be the primary reason.
Related articles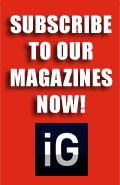 Our Publications
Our Partners