Fiji casino project raises $400m
The first phase of Fiji's casino project is to get under way this month, the company behind the scheme has confirmed.
According to local media, One Hundred Sands managing director Larry Claunch revealed that $400m in financing had already been raised for the project in just six months.
Construction work will begin shortly, he said.
The resort, which will feature a 500-slot, 57-table casino, is due scheduled to open by October next year.
It will be the country's first casino.
Novomatic, Europe's largest integrated gaming group, recruited more than 1,700 new staff during the first half of the current fiscal year and was able to increase its revenue by 15 per cent to a new record high.
Political pressure is building on Scott Walker (pictured), governor of the US state of Wisconsin, to accept or reject the proposed $800m Menominee Indian casino in Kenosha.
The government in Vietnam is considering a two-tier system to allow locals to gamble.
Related articles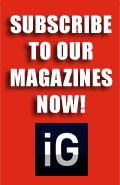 Our Publications
Our Partners