Fiji casino project raises $400m
The first phase of Fiji's casino project is to get under way this month, the company behind the scheme has confirmed.
According to local media, One Hundred Sands managing director Larry Claunch revealed that $400m in financing had already been raised for the project in just six months.
Construction work will begin shortly, he said.
The resort, which will feature a 500-slot, 57-table casino, is due scheduled to open by October next year.
It will be the country's first casino.
First quarter mass-market gross gaming revenue in Macau fell by 27 per cent year-on-year to approximately MOP27.11bn (US$3.4bn) from MOP37.14bn in the year-prior period.
With a wide-ranging product display and the presentation of new gaming innovations, Novomatic is confident of making a good impression at SAGSE Panama from May 13-15 in Panama City.
Las Vegas-style casinos could bring in 10 million annual visitors to Mexico within two years.
Related articles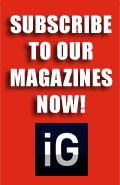 Our Publications
Our Partners