Fiji casino project raises $400m
The first phase of Fiji's casino project is to get under way this month, the company behind the scheme has confirmed.
According to local media, One Hundred Sands managing director Larry Claunch revealed that $400m in financing had already been raised for the project in just six months.
Construction work will begin shortly, he said.
The resort, which will feature a 500-slot, 57-table casino, is due scheduled to open by October next year.
It will be the country's first casino.
"A huge feather in the cap," said an overjoyed Jo Mayer, director of marketing at Clarion Events, when she collected the prestigious Marketing Campaign of the Year Award for its ICE trade show.
Scientific Games Corporation has installed operator wide-area progressive systems in all properties operated by UK-based Double Diamond Gaming, trading as Rainbow Casino.
Philippine casino stocks are among the worst performing so far this year as an expected influx of Chinese visitors has failed to materialise.
Related articles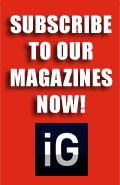 Our Publications
Our Partners