Fiji casino project raises $400m
The first phase of Fiji's casino project is to get under way this month, the company behind the scheme has confirmed.
According to local media, One Hundred Sands managing director Larry Claunch revealed that $400m in financing had already been raised for the project in just six months.
Construction work will begin shortly, he said.
The resort, which will feature a 500-slot, 57-table casino, is due scheduled to open by October next year.
It will be the country's first casino.
Gaming regulators in the US state of Massachusetts have awarded Wynn the Boston region casino licence.
All of the five firms that submitted a total of seven proposals to build a supercasino in Southampton, UK, have made it through to the final phase of the competition, reports the Southern Daily Echo.
Stephen Hung, chairman of the Hong Kong-listed Louis XIII, has placed a US$20m order for 30 Rolls-Royce Phantoms to carry guests around the Louis XIII casino on Macau's Cotai Strip.
Related articles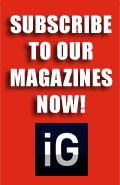 Our Publications
Our Partners