Fiji casino project raises $400m
The first phase of Fiji's casino project is to get under way this month, the company behind the scheme has confirmed.
According to local media, One Hundred Sands managing director Larry Claunch revealed that $400m in financing had already been raised for the project in just six months.
Construction work will begin shortly, he said.
The resort, which will feature a 500-slot, 57-table casino, is due scheduled to open by October next year.
It will be the country's first casino.
The New York Gaming Facility Location Board has selected three destination gaming resorts to be considered for commercial casino licences by the New York State Gaming Commission.
UK casino operator Rank Group is proposing a bigger venture - with 400 new jobs - if allowed to open in Belfast, Northern Ireland.
The Bermudan House of Assembly has approved new laws opening the island up for the introduction of three casinos, according to media reports.
Related articles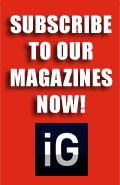 Our Publications
Our Partners