Resorts World New York revenues outstrip the rest of the US
Resorts World New York, the $800m casino complex operated by Genting, claims to have been the most lucrative slot operation in the whole of the US in May.
The casino, which is not permitted to operate table games, generated gross gaming revenues of $57.5m in May, outpacing Connecticut's Mohegan Sun at $55.5m. It also claims to have surpassed the slot gaming revenue generated by casinos in Las Vegas, Pennsylvania and Atlantic City.
The property was opened in October last year's at the state's Aqueduct racetrack. Under an agreement with the State of New York, 70 per cent of Resorts World's monthly gaming revenues goes to education, the horse racing industry and other state entities.
"Resorts World's model has maximised gaming revenue for New York State in a manner that has not been replicated by any other facility in the nation," said Michael Speller, president of Resorts World Casino New York City. "This is a partnership that works and as the state considers a referendum to permit table games, it should ensure that the current high tax base is not eroded. Resorts World looks forward to pursuing additional opportunities in the future to generate even more revenue and create thousands more jobs for New York."
Resorts World contributed $40m to the state in May, compared with the $30m contributed to Nevada by the 41 Las Vegas Strip casinos combined. To date, the casino has contributed $252m in taxes to the state. This arrangement is seen as key to the full legalisation of casinos in New York, which will require an amendment to the constitution approved by a public referendum. Proposals include licensing up to seven full-scale casinos.
"As New York State proceeds down the path of full legalised gaming, it is crucial that taxpayers and students not get shortchanged in the process," said Assemblyman J Gary Pretlow, chair of the Assembly Racing and Wagering Committee. "As evidenced by Resorts World's May figures, the state's education system greatly benefits from our current gaming structure. Any changes to that structure must ensure that students get more, not less, of the revenue that gaming brings to the state."
For the first time, Bally Technologies has connected its Cash Connection wide-area progressive slot link across Nevada and New Jersey to allow jackpots to reach larger amounts more quickly.
Ahead of the possibility that casinos could be allowed in New Jersey outside of Atlantic City next year, a $1.17bn expansion of the Meadowlands racetrack has been unveiled.
Deron Hunsberger has been appointed senior vice president of North America sales at WMS Gaming.
Related articles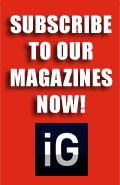 Our Publications
Our Partners